The Nature Strip and Buddy Glass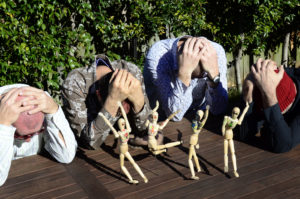 Those who have seen The Nature Strip play recently will know that the band is currently ON FIRE, wowing crowds with their usual "hits" ("Waterfall", "Break Through", "Cup of Tea", "Beautiful Rain", "Beautiful Brain", "Inside Voice" . . . the list goes on), a new Models cover, and soon to be new wave standard (a.k.a. brand new song) "Push The Past Away".
Hear all these and more as the group draws from all three of their albums in their first Inner West show since their triumphant turn in March playing Elvis Costello's This Year's Model. And be warned, the band is taking an extended break come the end of August, with just a handful of dates in the diary, so get the pop/rock goodies while you can. Between them, Jess Ciampa (drums/vocals), John Encarnacao (vocals/lead guitar), Matt Langley (keys/guitar/bass) and Peter Marley (vocals/bass/guitar) contribute to such attractions as (are you sitting down?) Jeff Duff's Bowie Unzipped and Scott Walker shows, Bernie Hayes Quartet, Scarecrow People (XTC show), Nancy Sinatra/Lee Hazlewood Experience, Marsala, Monsieur Camembert, Suzy & the Snakepit (Motown show), Fallon Cush and on and on . . .
Supporting will be TNS's China Pig Records labelmate Buddy Glass in solo mode. Armed with guitars electric and acoustic and a soaring voice, Mr Glass may dip into his stunning self-titled debut album from 2014, but his focus is on the batch of tunes he's currently turning into album #2. And you never know, you may get a cover of a tune by Billy Bragg or Jonathan Richman.